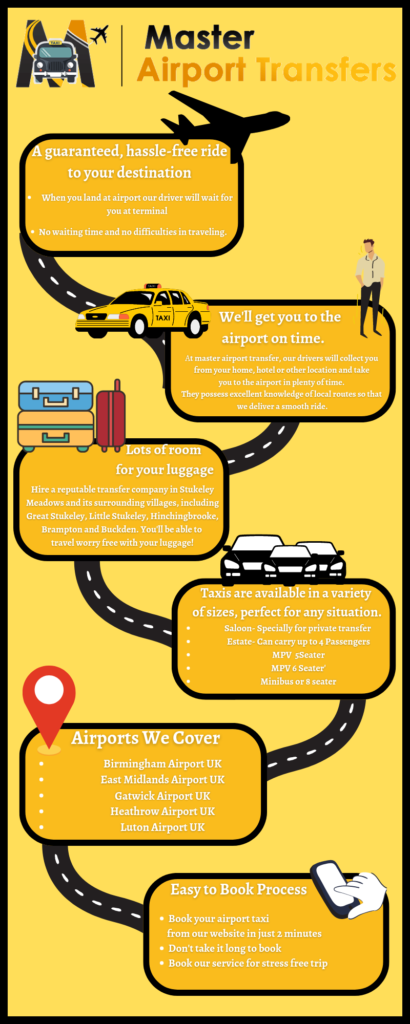 Traveling from one city to another and paying excessive money for a taxi is quite common nowadays. Have you ever been affected by this? We at masterairporttransfers.com have taken it upon ourselves by serving best airport transfer service to stop travellers from overpaying for taxi cab rides at Airport.
Master airport transfers are the best airport taxi service in Huntingdon, providing a hassle-free journey experience. We will pick you up at the Airport and drive you to your destination or, inversely, whether that be a hotel or another city. We do everything we can to make your trip a pleasant one.
 We serve customers in Huntingdon, St Ives, Alconbury, and Sawtry. Such as Stukeley Meadows, Great Stukeley, Little Stukeley, Hinchingbrooke, Brampton, Buckden, God Manchester, God Manchester Romans Edge, Alconbury, Alconbury Weston, Alconbury Weald, Hilton, Kings Ripton Abbots Ripton, Warboys, Houghton & Wynton, and Ellington. We are also considering expanding into other cities.
Airport transfers are essential for people who travel to the city by plane and businesspeople who visit the city for business purposes. Transfer services can arrange a transfer Vehicle for you and make your trip more comfortable and pleasant.
What could be better than a stress-free trip? Transfer service will save your both time and money. You can book the airport taxi service on our website by entering your information into the fields provided.
Our services will ensure that customers are completely safe and their luggage is fully secure during travel. We also guarantee speedy transportation to your destination for businesspeople who like the convenience of having a taxi waiting at the Airport when they arrive. Now you must have understood why people often search for a "taxi near me."
Read this article to know everything you should know about Airport taxi services.
Things to consider when using airport transfers
What's in the service:  
Airport transfers are pre-arranged vehicles that provide transportation from an airport to a destination. Passengers can use them for hotel pickup, cruise ship drop-off, or visiting local sites. Master, airport transfer services offer passengers a full range of options that provide both convenience and privacy.
Online Booking: 
Planning your taxi trip before you leave is one of the best ways to ensure a stress-free ride. What's better than this? A cab is standing for you as soon as your feet's touches down.
Provide the Correct Information: 
Please give us as much information about your travel arrangements as possible. Try to fill up the form with every detail you know, and if there is any particular instruction/information you want to convey, make sure to share it. We are ready to serve you all with our airport transfer service.
Providing your mobile phone number:
 Allows airport transfer companies to communicate directly with you. Airports are often chaotic places, riddled with people who don't know where they are going or how to get there. Having a designated driver who will bring everyone else home safely and communicate directly with those riding in their Vehicle is always the best choice.
Please choose the suitable Vehicle for you: 
Today, many airport transportation companies have various vehicles in their inventories. Saloons, estates, and minibuses are available with most operators. Remember that the amount of luggage your group will bring plus passengers must also be considered when choosing which type is best for you. For advice on choosing the perfect Vehicle, read the next section.
Use Meet & Greet Service: 
A Meet & Greet service is a simple way to ensure an enjoyable journey. If you are unfamiliar with the Airport or don't travel often, this service can make your trip more enjoyable.
Feedback: 
Don't forget to let the company know what you think about airport transfers. Good or bad, a reputable company will appreciate receiving feedback from their customers about what was excellent and if we could improve anything.
How to Book Airport Transfer?
Booking a taxi service on our website is like a walk in the park. Visit our website and click on the Book now button. Our booking interface can be used by anyone, regardless of technical expertise. You need to fill in your details like-
Pickup Date, Time, and Location
Additional note: For any additional requirements.
It is no surprise that people search for Cab near me so often. Due to their heavy demand and ease of use. Book our transfer service to avoid the hassle of getting from one place to another.
Figure 2 Airport Transfer Car waiting at Airport
The specialization of Our Airport Transfer Service
We understand our customers and know what they want, so we have divided four types of cars to meet their needs. We guarantee you a fulfilling experience with our service and hospitality. Our taxi service offers cars of four different sizes to accommodate any need.
Saloon: Also called a sedan, this is our smallest vehicle size. It's widely used by businesspeople or people who travel with little luggage. It can carry four people, two medium-sized bags, and two pieces of hand luggage. This is our most frequently used business airport transfer vehicle.
Estate: Also known as a station wagon or sedan. This Vehicle seats four passengers and can accommodate the luggage of 3 medium size bags and three pieces of hand luggage. This Vehicle is best for business persons who travel frequently and carry heavy luggage.
MPV 5-seater: Also known as a minivan or people-carrier, this vehicle seats more than five adults. The rear seats fold down, creating more room. It can carry either five passengers with their four pieces of medium-size luggage or four with their five pieces of medium-size luggage.
MPV 6-seater: This Vehicle can accommodate large items by folding its rear seats. It can accommodate six passengers and their luggage. Or five people with six large suitcases and six more minor pieces of luggage.
8-seater: This is the largest vehicle in our fleet and is commonly known as a full-size passenger van or an 8-seater minibus. It can carry up to 8 people and bulky items such as sports equipment or wheelchairs. This is one of our most popular vehicles for airport transfer by business teams and picnic groups.
Why Choose our Airport Transfer?
Clients highly regard our transfer service throughout the region. Our team comprises highly trained drivers, and their experience in the industry helps them provide you with safe, reliable, and efficient airport transfers.
Master airport Transfers is committed to providing the best services to our clients at affordable rates. We have a well-trained team of drivers who are well-versed in the local area. They know the best routes and can help you reach your destination at a reasonable price. Want to travel worry-free? What are you waiting for? Book our airport cab taxi service now!!
Airports we cover includes Birmingham airport, East midlands airport, Gatwick airport, Heathrow airport, Stansted airport and Luton airport.
Summary of Airport Transfer guide
Airport Transfer service is a boon for travelers who enjoy traveling in comfort and safety. It's the safest transportation available when the corona virus affects the local populace, making public transportation unsafe.
After you have completed all the formalities at the Airport, finding a taxi can make you feel exhausted and waste your time, pre-booked transfers offer the best option in this case. For more information about airport, visit the link (https://en.wikipedia.org/wiki/Airport).
Airport private transfer taxi service is much better than a public taxi. Public taxis usually sit and wait for other passengers before starting their journeys, which often involves multiple stops along the way—not ideal if you're in a hurry or trying to get somewhere on time!
If you are facing the same? You must book our transfer services.